General
Please find attached the privacy statement of Orange Charging. You are advised to read this privacy statement carefully before proceeding on this website.
Orange Charging installs and manages electric charging solutions. Orange Charging is located at de Ziel 1, 4704 RS in Roosendaal and is registered in the trade register of the Chamber of Commerce under number 64007766. Orange Charging can be reached by e-mail at info@orangecharging.com or by phone at 085-1054750
Orange Charging is the data controller within the meaning of the GDPR. This privacy statement explains how Orange Charging handles your personal data. Orange Charging attaches great importance to the proper security of your personal data and wishes to inform you as well as possible about this. This privacy statement indicates which (categories of) personal data of you are processed and for what purpose the personal data are used. This privacy statement also states on what legal basis the personal data are processed and how you can exercise your rights in respect of your personal data.
Orange Charging reserves the right to modify this privacy statement. The adaptation may be necessary due to new processing operations or to comply with the law. Orange Charging therefore advises you to consult this privacy statement regularly.
Personal data we process
Orange Charging processes your personal data because you visit this website, use the contact form, you or your employer use its services and/or because you provide this data to it yourself. Orange Charging only processes personal data if there is a valid basis for doing so. The basis for processing is underlined in the text.
Below is a summary of the personal data Orange Charging may process from you:
first and last name;
address and place of residence;
(business) phone number
(business) e-mail address;
company name;
your position as contact person in a business (pre)agreement;
location data;

IP-address;

data about your device and internet browser;
other (personal) data that you actively provide via the contact form, e-mail or during telephone contact with Orange Charging or within the framework of a contract entered into with Orange Charging.
Orange Charging does not intend to process data of children under the age of 16 without the consent of the legal representative(s). Should you find that Orange Charging does process data of children under 16 without valid consent, please notify us so that we can stop such processing.
Types, purposes, legal grounds and period of processing of personal data
Firstly, your name and e-mail address in combination with the content of your message are processed with your consent when you fill in the contact form on the website, or contact Orange Charging by e-mail or by phone. The processing/storage of this personal data is necessary to be able to contact you in response to your enquiry or to offer you a quotation.
If no agreement arises with Orange Charging, your personal data will be deleted after three (3) years. Orange Charging uses your contact details to inform you about Mr products. Of course, you may also ask Orange Charging to delete your data if you do not appreciate this. Please refer to the section Your privacy rights.
When entering into a contract with Orange Charging, personal data necessary for the performance of the contract with you or the company on whose behalf you contact Orange Charging will be processed. This data may include name and address details, phone number, e-mail address, details of you as contact person and additional data necessary to conclude and perform the agreement. Failure to provide necessary data may result in the failure to conclude an agreement with Orange Charging. This data will be kept in the company records for a minimum of seven (7) years after completion of the contract, unless otherwise agreed in writing or a different period applies under legislation.
With your permission, photographs of you, in connection with an assignment carried out for you or your company, may be published on Orange Charging's website. You may, of course, ask Orange Charging to remove them at any time. Please refer to the section Your privacy rights.
Orange Charging also processes personal data to which it is legally obliged under tax legislation. This includes contracts or agreements, invoices, bank statements, correspondence, etc. This data is kept in the company records for seven (7) years.
Transfer to processors and third parties
Some personal data are processed by companies engaged by Orange Charging to perform the contract. This may be necessary to deliver materials and/or to carry out the installation on behalf of Orange Charging. These companies are themselves responsible for processing your address or contact details.
Orange Charging may also have data from you processed by outside companies. Such companies are also known as 'processors' or sub-processors. This may be the case with, for example, Outlook, MS365, cloud storage or accounting. These (sub-)processors are located within the European Economic Area (EEA). Orange Charging enters into a processor agreement with these (sub-)processors that meets the conditions of the General Data Protection Regulation, so that the processing of your personal data takes place lawfully within the EEA. Orange Charging remains responsible for the processing operations carried out by these companies.
Your personal data are further shared with third parties, not being processors engaged by Orange Charging, if Orange Charging is required by a legal obligation to disclose personal data to authorised bodies. This may, for example, be the Tax Office or investigative authorities.
Security
Orange Charging has taken appropriate technical and organisational measures to secure your personal data against loss or unlawful processing. The website has an SSL certificate, which means data is sent encrypted over a secure connection. Frequent backups are made of the digital data. Orange Charging employees only have access to functionally related personal data. The employees are instructed in the secure processing of this data. Processing takes place within the EEA. A processor agreement is concluded with (sub-)processors.
Data leaks
Where work is done, mistakes can be made. Orange Charging will respond appropriately to a detected data breach. Depending on the type of data, the potential risks to the data subject(s) and the number of data subjects, Orange Charging will inform the data subject(s). In addition, based on these considerations, Orange Charging will determine whether the data breach will be reported to the Personal Data Authority.
Cookies
Orange Charging uses cookies. Some cookies are necessary for the proper functioning of the website. Other cookies require your consent before you continue on our website. Orange Charging uses the following cookies:
Functional cookies: These are cookies with a purely technical functionality and are necessary to ensure that the website works properly. These cookies cannot be refused. They are stored for a maximum of one day.
Analytical cookies: These third-party cookies are placed to analyse the use of our website. Orange Charging receives only anonymous reports from these.
Preference cookies: These cookies remember your preferences during the session. They serve for your convenience. These cookies are used during the session and are kept for up to one day.
Marketing cookies: These cookies are set by a third party. These cookies track your browsing and clicking behaviour. The cookies are used to provide you with personalized offers. The expiry period of the various marketing cookies ranges from the session to a maximum of one year.
Besides asking for your prior consent to the placing of cookies, you can also block the placing of cookies in your browser's settings. However, Orange Charging cannot then guarantee an optimal user experience of the website. You can delete any cookies placed via your browser settings afterwards.
Links to other website(s)
This website may contain links to other websites that are not operated and/or owned by Orange Charging. If clicking on a link takes you to another website, the privacy statement of that website applies. Orange Charging is in no way liable or responsible for that website, the privacy statement on that website or the processing of your personal data by the organisation behind that website. Orange Charging encourages you to read the privacy statement carefully before proceeding to the website in question.
Uw privacy rights
Data no longer needed will be deleted in accordance with the time limits set out in this statement.
A consent given by you may be revoked by you at any time. Withdrawal of consent does not affect personal data already processed before the time of withdrawal, but it may affect the further execution of your possible agreement with Orange Charging.
You have the right to access, rectify, delete or restrict the processing of your personal data. An explanation of these rights follows below. A request regarding these rights can be made at info@orangecharging.com
Orange Charging will acknowledge receipt of your request and respond substantively to your request within four (4) weeks. To check whether the request is legitimate, we will always ask you to identify yourself before you can make use of it. To this end, Orange Charging will contact you, preferably by telephone, to then check the legitimacy of your request on the basis of a number of specific questions. If the lawfulness cannot be established in this way, Orange Charging may ask you to come in person.
inspection
The right of inspection applies only in respect of your data. If your inspection threatens to breach the privacy of another person, that other person's personal data will be removed or rendered illegible. You will then receive a digital copy of your data.
rectification or supplement
If you believe your data is incorrect or incomplete, you can request that it be amended or supplemented.
removal
You can request that your personal data be deleted. This may be the case, for example, if you believe that they are kept longer than necessary. If there is no basis for keeping your data anyway, they will be deleted. However, deletion may result that any agreement with Orange Charging can no longer be properly executed.
restriction or termination of processing
You may request that the processing of your personal data be restricted or terminated. This may be necessary in the event of a legal claim or if you believe that your data is being unlawfully processed by Orange Charging.
no profiling
Orange Charging does not use your data for automated profiling.
complaints
If you would like to make a complaint about Orange Charging's processing of your personal data, please notify us by sending an email describing your complaint to info@orangecharging.com
Orange Charging will strive to handle your complaint to the best of its ability. You can also submit your complaint to the Personal Data Authority. If you would like more information on how to go about this, please click here.
Responsible disclosure
Should you discover, despite the care with which Orange Charging processes personal data, that this is not done correctly, Orange Charging requests that you report this by return at info@orangecharging.com

Orange Charging will safeguard you from legal consequences, unless there is an intentional attempt to hack or another crime.
Didi 't Hart
Project manager | Orange Charging B.V.
Would you also like to get in touch with Didi 't Hart to discuss the possibilities? You can always request a no-obligation consultation or more information.
Interested in our services?
Orange Charging brings you reliable services & high quality charging solutions.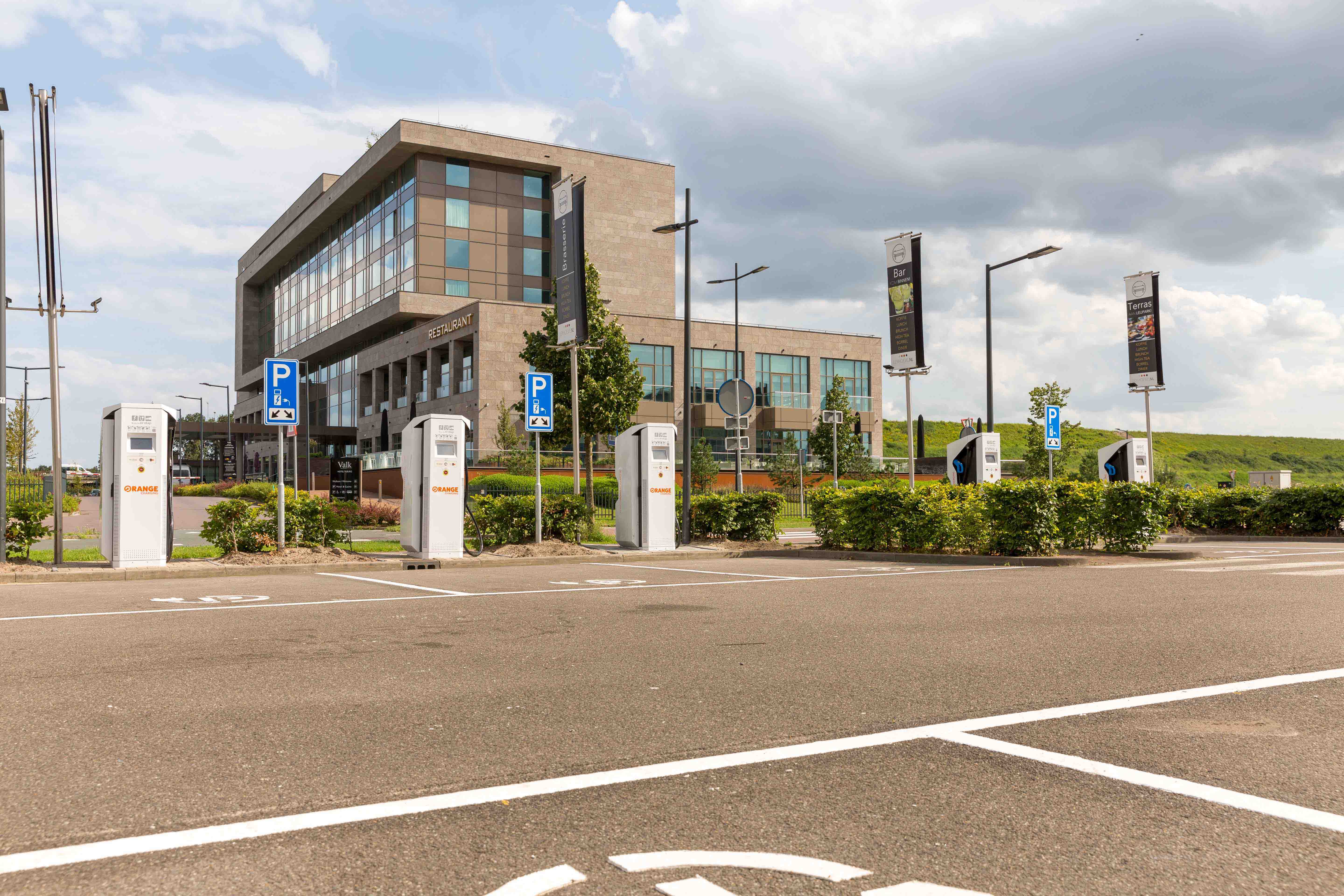 We love to hear from you!
Monday to Friday 8.00-17.00